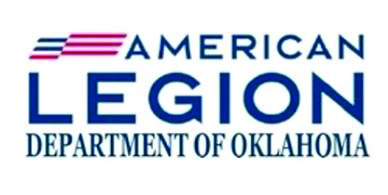 American Legion newly elected and installed Commander Brett Martin
Newly elected and installed, Commander Brett Martin of the Department of Oklahoma of the American Legion made the following statement.
"I am extremely honored and humbled to be your Department of Oklahoma Commander. As we begin our journey together for this upcoming Legion Year, I am excited about moving our department forward.
We will be growing our Department of Oklahoma Legion Family across the Board.
We will produce more qualified American Legion Veterans Services Officers.
We will start Boys State recruiting day one hour one with a goal of 400 candidates.
We will use Operation Four Pillars of Hope to serve our Veterans even better.
I encourage all of you to be proactive in everything we do this year. Working true leadership together we will achieve our goals."
Commander Martin and his family reside in Oklahoma City where he is an active member of the Department of Oklahoma American Legion. He currently serves as Commander of Post 12, Bethany-Warr Acres, Senior Vice Commander of the American Legion, Department of Oklahoma and serves as Membership and Post Activities National Committee Member. Commander Martin also services as Commissioner on the Oklahoma Veterans Commission.