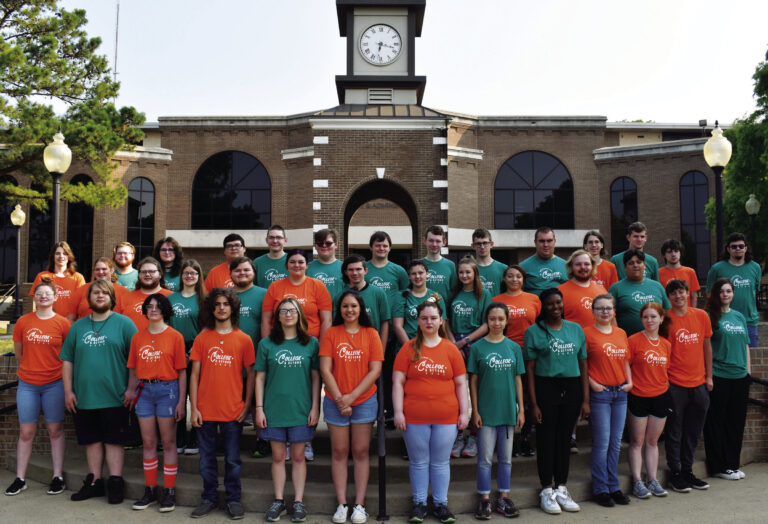 GEAR UP students attend Solutions for College and Beyond Summer Camp
WILBURTON – Thirty-nine GEAR UP students from area partner schools recently attended Eastern Oklahoma State College's GEAR UP Skills Summit Summer Camp. GEAR UP worked with FOCUS Training to design and deliver a four-day, threenight leadership camp.
Students participated in various leadership activities focused on team building, time management and prioritization, networking, FOCUS on life, community involvement, and working toward the future. The overall goal of the activities was to establish strong, impactful leaders.
Each year, GEAR UP summer camp participants complete a community service project. This year, students decorated rocks with encouraging words to place around their communities.
At the end of the camp, students shared team presentations and then attended "graduation" where they received completion certificates. Additionally, special certificates were awarded for teamwork, enthusiasm, and participation. The Solutions for College and Beyond Summer Camp was sponsored by Eastern Oklahoma State College's GEAR UP program. Eastern received a $17 million federal GEAR UP grant in 2017 and will serve more than 3,000 students in 39 area schools for seven years.
Cutline: 2023 GEAR UP Leadership Camp students pause for a picture in front of the Clock Tower on the Eastern Oklahoma State College campus. Pictured are (back row left to right) Lucus Bond, Jasmine Benson, Rene Hurtado, Weldon Harrison, Becket Bailey, Alex Pickle, William Day, Travis Turner II, Caleb Reed, Carrick Meglemre, Christian Boyd, Gavin Wooten, Jeremiah Copeland, (middle row) Jeremiah Brady, Brooklyn Autrey, Noah Logan, Farah Brem, Shayne Paoli, Maddyson Gragg, Zackery Hurst, Kambrie Rogers, Dakota Logan, Asia Hall, Stetson Peek, Adrian Wind, (front row) Ashlyn Phillips, Nathan Fullingim, Ruby Billy, River Melton Raylin Ballard, Gracie Sam, Ashley Diamond, Zophia Riley, Ecacia Hawkins, Kahlan Reeves, Taylor Garcia, Gage Womack, and Hadley Dieters.