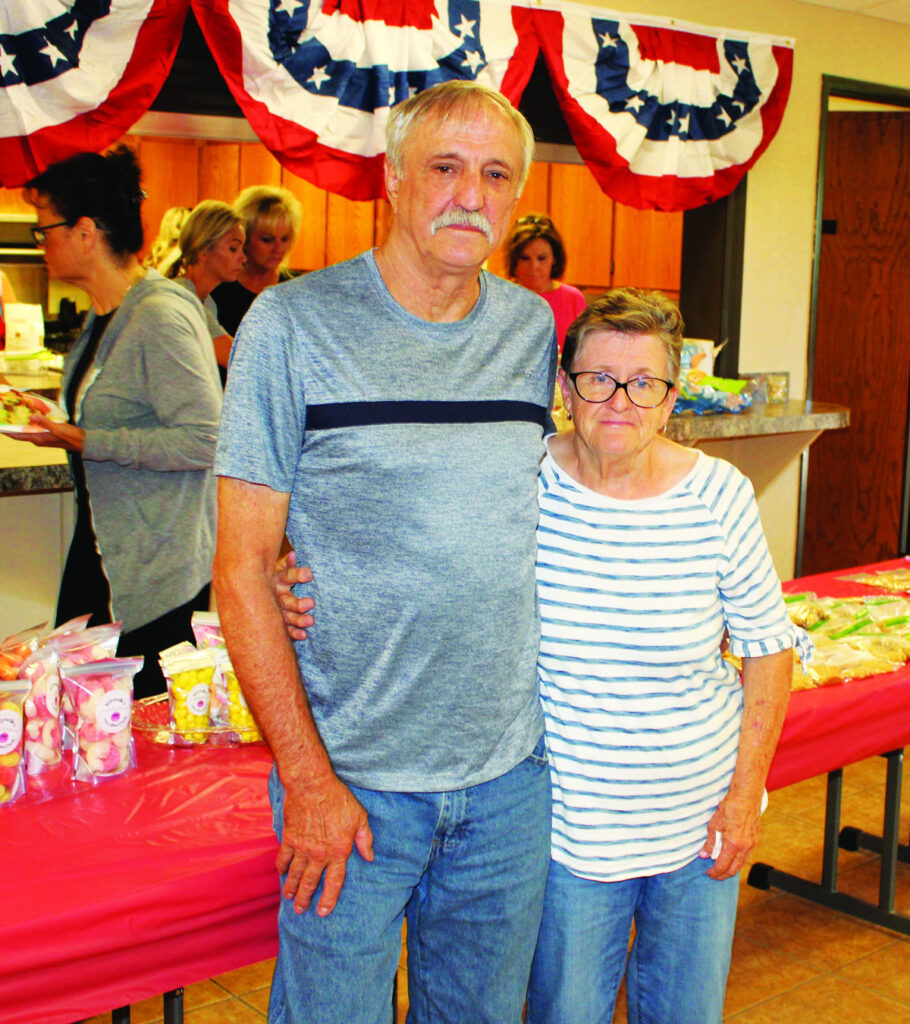 Couple ponder their future following devastating fire
Four weeks before Doug and June Rush were to celebrate their 54th wedding anniversary, they lost almost everything in a horrific fire that destroyed their home and workshop, as well as their future plans and mementos of their past.
"We had I don't know how many photo albums," June said as she and Doug sat at a table in a dining area of the First Assembly of God Church on SH 9 East, where a fundraiser was being held for them on Saturday.
They have two daughters. The oldest lives in Australia. The youngest is a missionary.
"She's been in Germany, New Zealand and now she's in Kathmandu, Nepal," June said.
A steady stream of sympathetic friends and acquaintances and strangers sympathetic to their plight came in, bought Indian tacos, visited with the couple and left.
Some were neighbors. Some members of the Lenna Baptist Church which they attend. Some probably customers of Doug, who for decades did bodywork in a shop adjacent to his home that was destroyed.
Some were friends from bowling, a favorite pastime of the couple.
"We belong to a senior bowling league in Muskogee," Doug, 74, said.
"I think our bowling balls were lost in the fire," June said.
A friend replied not to worry about the bowling balls, there are plenty of those.
Doug said he wouldn't be able to bowl for a while anyway because of a bad knee that is due to be operated on at the end of the month.
"His post-op is scheduled for the day of our anniversary," June said.
Neither of them were injured in the fire, which broke out between 7 and 7:30 p.m. on June 24.
"We were playing cards in the kitchen with a cousin and his girlfriend," June said.
They heard a popping sound coming from the shop.
At first they thought maybe it was animals fighting Doug believes now it was a battery being charged that caused the fire.
"Something malfunctioned," he said.
Then he saw flames under the door to the shop.
"I didn't even open the door," Doug said. "I just turned around and dialed 911."
When the police arrived minutes later he was trying to save some things, but couldn't.
A pet chihuahua was rescued.
So was their 15-year-old conure, a species of the parrot family noted for being friendly, sociable and fun-loving.
They aren't sure what happened to their cat.
"A fireman broke out a window and the cat jumped through it. Haven't seen it since. It was probably traumatized," Doug said.
They had lived at the residence since 1972.
Now, they are living in a little white camper Doug built. Their income consists of Social Security plus some money from the VA.
They didn't have insurance on their property.
"They wanted $1,200 to $1,500 a month," June said. "We couldn't afford it."
Doug said they won't rebuild.
He has decided to retire from the bodywork business, in which he had a reputation for being an artist of sorts as well as a craftsman who did high-quality work.
Their goal now is to buy a fifth wheeler and park it on lake property they own at Rock Creek Cove near Canadian.
"Doug traded a car for the lot," June said.