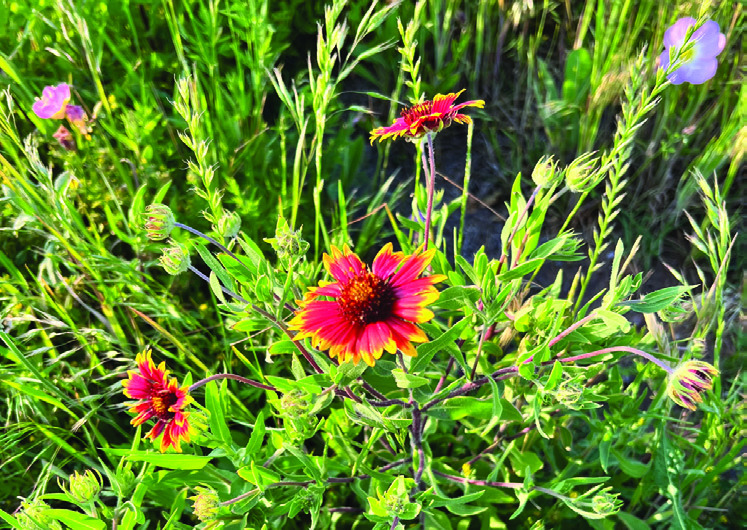 Grants available to grow wildflowers
Wildflowers have created stunning color on Oklahoma's roadways, turnpikes and toll roads this spring. Roadways are spectacular with Indian Paintbrush, Gaillardia, Plains Coreopsis, Showy Primrose, and other native plants creating beautiful splashes of color.
Color Oklahoma with Wildflowers is a committee of the Oklahoma Native Plant Society, and it can help bring these beautiful native flowers to your cities or towns.
Color Oklahoma offers matching grants for cities/municipalities, organizations or groups to plant wildflower seeds across Oklahoma.
"Application forms are available on our website, www.ColorOklahoma. com," according to Color Oklahoma chairman, Monica Bartling.
"An important note is the organizations don't plant the seeds, but they provide the matching funds to purchase the wildflower seeds. The Oklahoma Department of Transportation (ODOT) or Oklahoma Turnpike Authority (TPA) plants the flowers each fall on roadways they maintain. Color Oklahoma purchases the native wildflower seeds for the planting and works with the local entity that matches the grant to determine the number of seeds needed and the best planting area for a successful planting."
Grant applications for the 2023 fall planting cycle are due to Color Oklahoma by July 31, 2023, and grants will be awarded in August for Fall 2023 planting cycles.
"The Color Oklahoma team is eager to work with you on your application and can walk you through each step of the process," Bartling stated. "For instance, you may not have access to info on the number of acres in your proposed planting area or how many seeds you should purchase for the site.
"We are available to assist with questions. We encourage you to reach out to us after you've reviewed the application from the ColorOklahoma. com site. We are also happy to mail an application to you.
"To receive a copy of the grant application directly, please email coloroklahoma@ gmail.com and a form will be emailed to you or send us your mailing address and the forms will be mailed."
Color Oklahoma with Wildflowers is funded through the sale of wildflower license plates that are purchased through the Oklahoma Department of Motor Vehicles.
"We receive $20 from each wildflower license plate purchased," according to Pearl Garrison, Color Oklahoma co-founder and chairman emeritus for the non-profit organization.
"We started Color Oklahoma in 2001 and have many planting sites across Oklahoma. It's important to note that the most successful sites are planted with some seeds every fall. Even though many of the wildflowers are perennials, the sites still benefit from additional seeds to expand the planting areas and best maintain current areas."
Want to help Color Oklahoma with Wildflowers? You can access a license plate form directly from the Department of Motor Vehicles Website at https://oklahoma.gov/service/ vehicle/ specialty-plates.html. Select Color Oklahoma from the catalog or download the form directly from the Color Oklahoma website at https:// coloroklahoma.com/you-. The cost for the specialty plate is $40 plus the standard cost of your annual renewal.