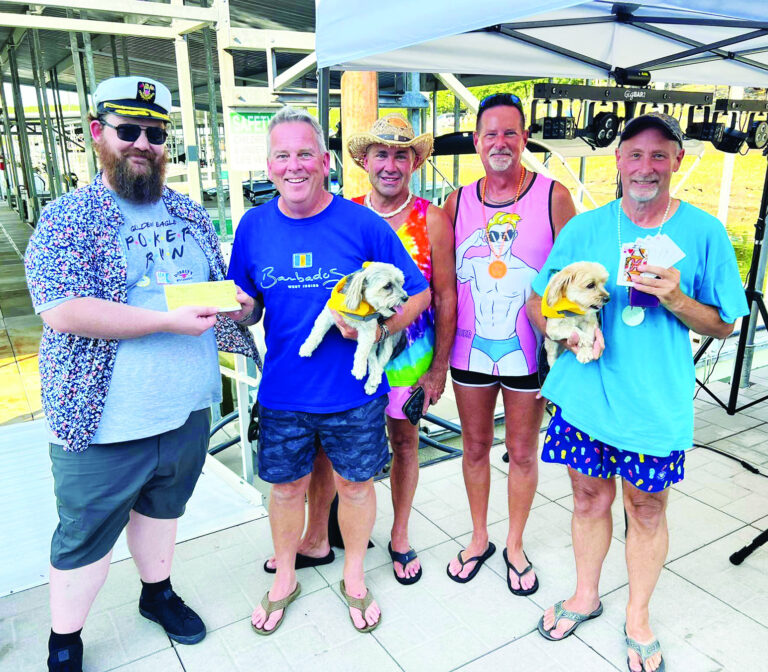 Golden Eagle a great success
Boaters gathered across Lake Eufaula on June 10 vying for the perfect hand at the 2023 LEA Golden Eagle Poker Run. Nine Marina was the site of the main event.
The clouds rolled in for a stormy start that ended up with a sunny day.
"The new Nine Marina is beautiful, and we can't thank Nine Marina's owner Jake Nossaman and their staff for helping make this a successful event. We also had several volunteers from around the community, Under One Roof, Campbell Due Realty, the local participating marina's as well as the board, for helping with card stops, folding shirts and just helping with anything we needed. It was a community effort, and we couldn't have done it without everyone's help," said director Nick Woodruff.
Participants from Oklahoma, Kansas, Texas and all the way from New Mexico made the six card stops this year including Fountainhead Marina, Belle Starr Marina, Xtreme Marina, Sammy's Surf Shop, Evergreen Marina & Nine Marina.
The event T-shirts this year were sponsored by Dobbers and Lake & Bake. Oklahoma Shirt Co. Sponsored our costume contest and other sponsors included Destiantion 420, 9 West Ranch Beef & Toon's. The LEA wants to thank all the sponsors who helped make this a successful event.