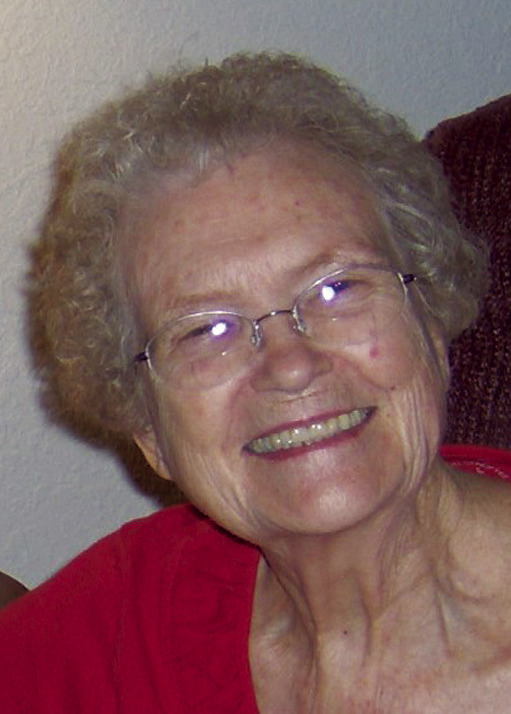 Twyla Fern Trent King
Twyla Fern Trent King was born on August 18, 1935 in Okfuskee County, Oklahoma near a small settlement called Micawber. She passed away June 9, 2023 at the age of 87. Her parents were Rufus Ray Trent and Winifred Evelyn Reust Trent. Twyla was the last of nine children born to Ray and Winifred.
When Twyla was 3 years old the family moved back to Lincoln County near McLoud where Winifred's parents lived. Twyla attended school at several one room schools: White, New Salem, and Valley View; where she and her siblings would walk at least a mile to and from school each day. Twyla moved to McLoud when she was in the 5th grade and attended McLoud Public Schools. She graduated from McLoud High School in 1952.
Twyla began her career at Liberty Mutual
Aug. 18, 1935 – June 9, 2023
Insurance Co. in Oklahoma City. She ended her working years at the U.S. Post Office, working at both Harrah and Meeker.
On April 25, 1958 Twyla married Bob King at First Baptist Church in McLoud. They made their home near Meeker for 36 years before moving to Eufaula in 1994. They welcomed three children: James Edward, Robyn Kaye and Timothy Trent. Bob and Twyla were married for 62 years when Bob passed away in 2020.
Twyla was a 4-H club leader for 15 years; elected the first woman on the Meeker school board where she served for 10 years; and served four years on the board of directors of Oklahoma State School Boards Association.
Twyla was an active member of the United Methodist Church in both Meeker and Eufaula churches. She taught Sunday School, led Vacation Bible Schools, sang in the choir, and was church treasurer. She was also very active in the United Methodist Women. She served as a Certified Lay Speaker and led services at the lake in the summers for seven years.
Twyla loved sewing, reading, watching baseball, football and basketball games. She also enjoyed her monthly endeavor of writing notes to shut-ins and those who needed a word of encouragement.
Twyla was preceded in death by her husband Bob; her brothers Neal, Fred and Sam; sisters Evelyn, Naomi, Pauline and Lindy.
Survivors include her children Ed and Michelle King of Carmel, Indiana; Robyn and Randy Burris of Eufaula; Tim and Julie King of Pryor; grandchildren Chelsea Burris of Magdeburg, Germany; Emily Burris of Little Rock, Arkansas; Serena and Matt Dragoo of Indianapolis; Zachary King of Carmel, IN; and one brother Jim Trent of Moore, as well as many nieces, nephews and friends.
The family suggests that memorials be given to Eufaula United Methodist Church, PO Box 470, Eufaula OK 74432.
A Celebration of Life will be held at 3 p.m., Sunday, July 9, 2023 at the Eufaula United Methodist Chrurch.
Arrangements were made with Hunn, Black & Merritt Funeral Home & Crematory. Online condolences may be made to the family at www.hbmfuneralhome. com.