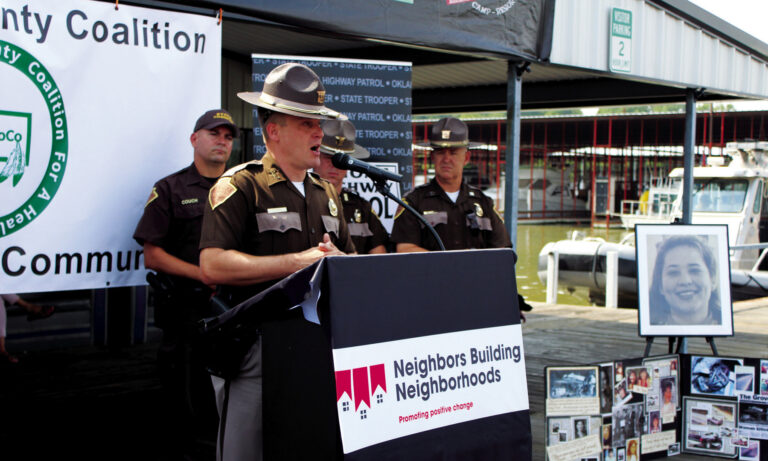 Drunk driving is not an accident, it's a choice
Organizations remind drivers to think before they drink
A press conference was held Thursday, May 25 to educate and remind drivers and boaters to think before they get behind a wheel.
Neighbors Building Neighborhoods, the Oklahoma Highway Patrol Marine Enforcement, McIntosh County Coalition for a Healthy Community, Sheriff 's Department, Eufaula Police, Checotah Police, AAA and Padford were all in attendance.
Scott Welch, Neighbors Building Neighborhoods kicked off the program held at Xtreme Marina. The Community Based Prevention program is funded by the Oklahoma Department of Mental Health and Substance Abuse Services Prevention Division.
Welch is the specialist for McIntosh and Pittsburg Counties.
Their organization is teaming up with the Oklahoma Highway Patrol, Eufaula Police Department and Checotah Police Department to remind everyone that "buzzed driving" is still drunk driving.
Rylie Mansuetti, Manager Public Relations and Government Affairs for AAA OK spoke to lend their support to the event and remind drivers that impaired driving and boating is deadly, illegal and 100 percent preventable.
As AAA predicted near record travels over this summer season, organizations wanted to make people think before they get behind the wheel.
Mansuetti reminded listen- ers that impaired driving poses a serious threat to drivers and boaters, whether by legal prescription, alcohol or illegal drugs.
While AAA reported 94% drivers disapprove of being drunk or impaired, 6% still admit to doing so in the past 30 days.
She reported that prescription drugs pose an equal threat to alcohol and that everyone should read the warning labels and never mix drugs and alcohol.
"Alcohol and impaired driving are 100% avoidable," Mansuetti said.
Trooper Ryan Williams with the Marine Enforcement Division of the Lake Patrol stated that all available troopers would be on the water to perform life jacket checks and to remind boaters to be not only responsible for themselves, but for others.
"Hold each other accountable. Don't drink and get behind the wheel of a boat," Williams said.
Of course, nothing hits home like hearing the story of a life that was lost way too young.
That was the case when Penny Gooch took the microphone and showed photos and newspaper clippings from the tragedy that took the life of her twin sister.
Gooch knows all too well the impact of drunk driving and the loss that is still felt years later.
Eighteen years ago, Gooch lost her twin sister, Paula Neito Terry, when she was hit by a drunk driver. Gooch and her sister were weeks away from graduating from Northeastern State University when their dreams fell short because of someone else's poor decision.
When the drunk driver veered into Paula's oncoming car at 8:33 p.m. on March 29, 1993, in Grove, dreams ended for all who were affected. Paula hit her brakes and skidded for 99 feet to the point of impact. However, the driver rode over her vehicle from the front headlights to the rear headlights and shoved her vehicle back 48 feet.
Paula had to be cut out of the wreckage and didn't survive.
"I couldn't be there when she died," Gooch said.
"The last day we spent together was beautiful. We said goodbye laughing. I want to remember her that way," Gooch said.
When the driver woke up eight days later, he was told he killed a 23-year-old woman.
"Going back to school without her was hard, but I knew I had to do it," Gooch said.
"I sat in a seat where my sister normally sat next to me. I grabbed a hand that wasn't there and said 'Okay, Paula, let's do this,"Gooch said.
She went on to remind listeners that the days from the start of Memorial Day to the end of Labor Day are 100 of the most deadly days of summer for the ages of 16-24.
Trooper Eric Foster with the Oklahoma Highway Patrol reminded the crowd gathered that there are thousands and thousands of people impacted by the choices made daily.
"We no longer call it an accident. When someone makes a choice to drive impaired, it affects lots and lots of lives," Foster said. Foster reminded drivers to be cognizant before they get behind the wheel of any vehicle or vessel.
Penny Gooch went on to start Victims' Voices, which is a victim's impact panel service devoted to drunk driving prevention.
The program brings a panel of speakers to share the tragedies that have created profound loss in order to impact communities and encourage people to make life-saving choices. Victims' Voices also offers victims impact panel programs on a regular basis for court ordered DUI offenders..