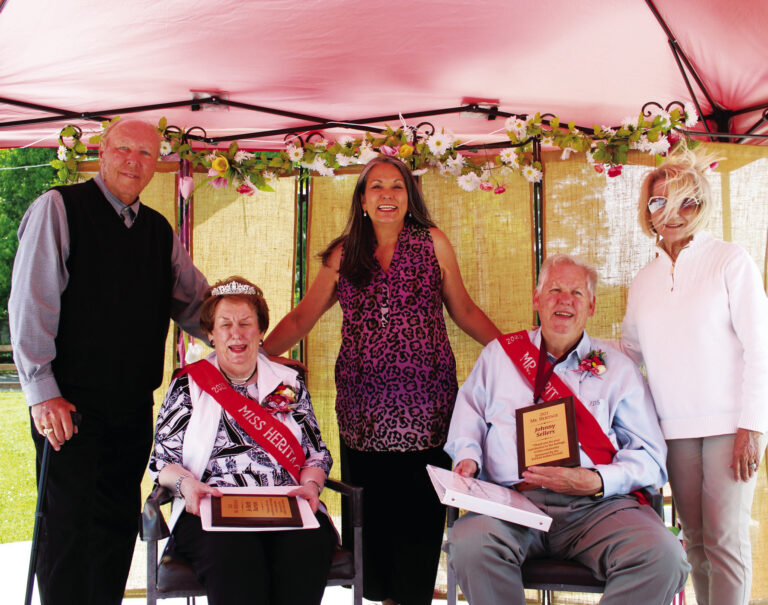 Heritage Day celebration a success
Eufaula observes its 151th anniversary
Shauna Belyeu General Manager
The sun came out and the temperatures were nice during Saturday's 2023 Heritage Day celebration, which also was a day of observance of Eufaula's 151th anniversary.
The event was a joint venture of different community organizations with the Chamber taking the lead. All the participating parties came together to provide Eufaula with the best Heritage Day possible. The (Heritage Day) committee developed a timeline to promote each event. This timeline was developed to allow people to be educated about the history of Eufaula and provide events throughout the day.
One of the highlights of Heritage Day is the recognition of Mr. and Ms. Heritage Day, sponsored by the Eufaula Indian Journal. This year's recipients were Jo Beth Barton and Johnny Sellers. Both have deep roots in McIntosh County and were pivotal in making a big impact on the residents of Eufaula.
Barton, born in Eufaula, was a school teacher for Eufaula Public Schools for 25 years and substitute for another 15. She and her husband Roger have one son, Phil, an MD who practiced 29 years with the Pediatric Intensive Care at St. Francis Hospital in Tulsa. Jo Beth said he now travels to different pediatric facilities. The Bartons have two grandchildren, Olivia Jill who works for Sony and Alex who works at Tulsa Bone and Joint.
In her spare time, Jo Beth loves to do ceramics. She is an active member of FLEAS and serves as the pianist for the Baptist Church of Eufaula.
Mr. Heritage, John "Johnny" Sellers III, grew up and graduated from Eufaula High School. He ran a prominent retail business in what became known as the Sellers Building. The Sellers Building, where Johnny operated the Ben Franklin store, was originally built by the Brown Brothers, who were a Jewish family who ran a dry goods store back at the turn of the 20th Century. Today, the building houses E's Hideaway Restaurant. He and his wife, Marty, are now residents of Eufaula.
Barton and Sellers rode in the Heritage Day Parade and greeted parade attendants before heading to the ceremony where Selina Jayne Dornan, a previous mayor of Eufaula and original event organizer, honored them and presented them with their plaques.
Vendors and food trucks lined up downtown in efforts to bring more of the activities to the Main Street area. For those who left room for dessert, the pie-eating contest was a big hit. The contest, sponsored by the Lake Eufaula Area Museum, was attended by folks ready to dive in. Grace Holuby, of Edmond, took first place and Marlene Cooper, of Choctaw, took second.
The museum had more than pie on their minds as the Eufaula Area Museum attracted more visitors than normal with guests strolling through to learn more about Eufaula history.
The Eufaula Community Center was busy with many people dropping by to grab Indian Tacos, see the exhibits on display by the Eufaula- Canadian Tribal Town and shop original works by Jon Tiger.
The Eufaula Memorial Library conducted special presentations by Dr. John Anderson from Kansas City Missouri. He presented "Tales from the Black West", featuring historical facts paired with music. It was a big hit for families and people of all ages.
Xtreme RV Resorts also hosted Xtreme Outdoors Expo Show, displaying several different RVs, boats, golf carts and lawn mowers.
It was a day for the town to celebrate Eufaula's past, present and future.