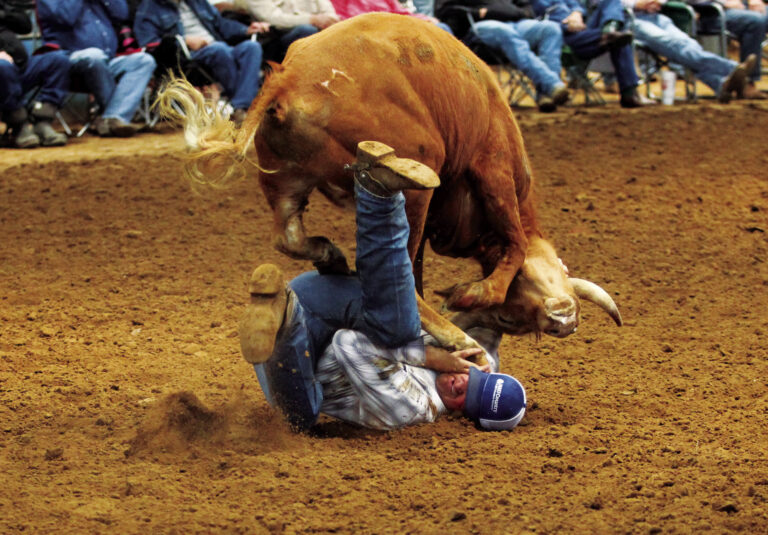 Duvall 44th Jackpot a success
The 2023 Duvall Family Jackpot was a huge success this past weekend as hundreds of steer wrestling fans filled the Checotah Round-Up Club arena. Over 500 fans came out to enjoy the wonderful family atmosphere and see some of the best steer wrestlers in the world compete.
"We survived the 44th anniversary of the Duvall Jackpot with no hitches this year and had a good turnout despite all the rain on Friday. We had a total of 182 entries for the weekend. We were a qualifying event for the Hooey Jr. Patriot, WCRA, Ote Berry Junior Steer Wrestling World Championship, and the American. We want to thank all our sponsors and workers that give so much to help us continue to host this annual event," Jenny Duvall said.
"This is just wonderful to see all the people out here. We have cowboys from across the nation and Brazil here today and it looks like everyone is having a great time," Imogene Duvall.
2023 DUVALL JACKPOT RESULTS CHAMPION OF CHAMPIONS – 42 ENTRIES
Round 1 Results
1 4.9 Mark Joiner Loranger, LA
2 5.1 JD Struxness Milan, MN
3 5.2 Chase Crane B Boynton, OK
Round 2 Results
1 4.1 David Reagor Morris, OK
2 4.3 Shane Frey Stephenville, TX
3 4.5 Tanner Brunner Ramona, KS
Round 3 Results
1 3.9 JD Struxness Milan, MN
2 4.7 Trisyn Kalawaia Hilo, HI
3/4/5 5.2 Chase Crane A Boynton, OK
3/4/5 4.2 Tanner Brunner Ramona, KS
3/4/5 4.2 David Reagor Morris, OK
Round 4 Results
1/2 4.3 Riley Duvall Checotah, OK
1/2 4.3 Cody Devers Pampa, TX
3 4.4 Austin Mason Henryetta, OK
Short Round Results
1 3.8 David Reagor Morris, OK
2 4.5 Tanner Brunner Ramona, KS
Average Results
1 26.6 JD Struxness Milan, MN
2 30.6 David Reagor Morris, OK
3 33.2 Riley Duvall Checotah, OK
4 37.0 Gus Franzen Kearney, NE
40 & OVER – 13 ENTRIES
Round 1 Results
1 4.7 Jeff Miller Blue Mound, KS
2 6.4 Travis Burgett Van Vuren, AR
Round 2 Results
1 4.0 Renato Finazzi Milsap, TX
2 6.8 Stewart Gulager Fort Scott, KS
Average Results
1 13.7 Stewart Gulager Fort Scott, KS
2 14.8 Renato Finazzi Milsap, TX
50 & Over Incentive Winner- Keith Ball BATTLE ROYAL Group 1
Cooper Reagor Garrett Oates Newt Bush Tucker Alberts
1. 70
60 8.7 19.4
2. 7.5
5.8 60 10.6
3. 18.3
8.8 12 10.9
4. 13.8
5.7 60 8.6
Group 2
Carson Good Riley Duvall Austin Mason Chase Crane
1. 19.4
13.2 8.1 7.9
2. 14
6.5 13.7 7.5
3. 7.7
5.2 12.9 12.5
4. 13.9
6.8 8.1 6.5
Group 3
Chase Pierre Jake Holmes Casey Stone Wyatt Johnson
1. 6.5
60 60 60
2. 6.5
16.9 24 10.9
3. 11.5
7.7 9.9 6.6
4. 10.6
11.1 60 60 Group 4
Stewart Gulager Denver Berry Sam Goings Colt Honey
1. 60
60 13.2 70
2. 60
8.5 10.9 14.1
3. 13.5
10.9 60 5.5
4. 60
14.1 21.9 15.7
Finals
Tucker Alberts Denver Berry Riley Duvall Chase Pierre
1. 6.3
10 60 19.1
2. 60
35.8 60 6.1
3. 7.7
60 60 9.9
4. 60
6.3 —- 6.3
19 & UNDER – 62 ENTRIES
Round 1 Results
1 5.3 Jake Shelton A Krum, TX
2 5.4 Jake Shelton B Krum, TX
3 5.7 Jackson Mathijetz A Lexington, TX
4/5 6.0 Kaden Alcorn A Seminole, TX
4/5 6.0 Jake Holmes B Mulberry, KS Round 2 Results
1 5.0 Ryden Martin B Sulphur, LA
2 5.5 Jude Leonards B Ben City, LA
3 5.7 Cayden Schulz A Alamosa, CO
4 5.3 Garrett Keeling Lexington, TX Short Go Results
1 4.9 Kent Jordan B Tallassee, AL
2 5.1 Garrett Keeling Lexington, TX
3 6.5 Cole Pugh B Jasper, TX Average
1 19.4 Kent Jordan B Tallassee, AL
2 22.3 Garrett Keeling A Lexington, TX
3 22.6 Jake Holmes A Mulberry, KS
4 22.7 Cole Pugh B Jasper, TX
16 & Under Incentive Winner- Jackson Mathijetz A Fast Time: Kent Jordan