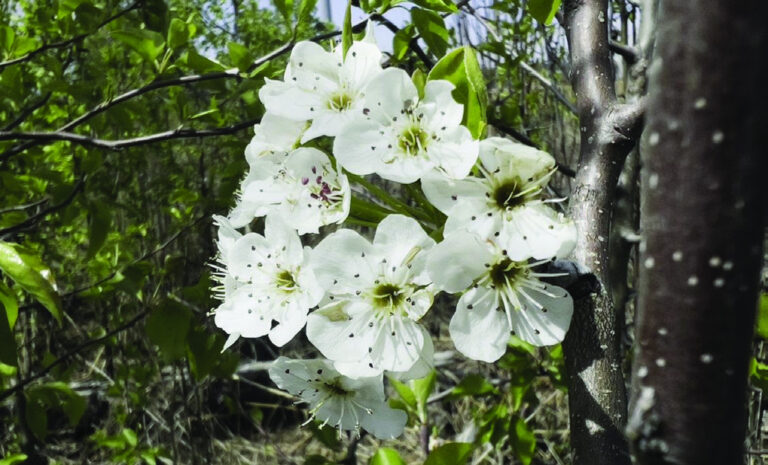 Callery pear tree invasion continues across Oklahoma
Spring is the season of lovely white-flowering trees in Oklahoma, but one of the most visible of those trees has become an unwelcome sight.
Bradford or Chanticleer pear trees are a domesticated cultivar— cultivated in nurseries for certain properties— that have given rise to a thorny problem in the wilds, according to ecologists, wildlife land managers and foresters almost everywhere.
This year, Ohio became the first state in the nation to ban the growing, selling and planting of Bradford pear trees and other cultivars of the Asian Callery pear. South Carolina will ban the trees in 2024, which is the same year Pennsylvania's phased-in ban will be final. Agencies and municipalities in North Carolina, Kentucky, Missouri, and Arkansas already offer residents bounties or replacement native trees if they remove the pear trees from their properties.
Oklahoma State University Cooperative Extension Service recommends a "zero tolerance" approach to the trees, even as commercial nurseries continue to sell them and they dot neighborhoods across our state.
As a landscape tree they grow quickly, fill early with white blooms in spring, remain green and showy in drought conditions, and offer showy red foliage in autumn— and they do not have thorns.
On the downside, they smell bad and are prone to breakage in high winds and ice storms. Worst of all, their offspring are, literally, a thorny problem.
"If it's just a Bradford pear and the only one in an area, it's not likely to pollinate and it's sterile," said David Hillock, OSU Extension Consumer Horticulturist. "The problem started as more were planted and more varieties were developed. They cross-pollinate with other flowering pears, or a tree has died and its rootstock has come up and it can cross-pollinate."
The resulting sprouts, and their many fruits, give rise to thorny, prolific Callery pear trees. Clumps of these trees with their many small fruits are attractive to roosting birds. The birds eat the fruits and disperse seeds with their droppings as they land on other nearby trees and shrubs. Spreading by both seed and by shoots off their root systems, the trees can quickly dominate grasslands, shrublands, and forest edges.
Removal can be challenging, Hillock said.
"It's not like an eastern redcedar that you can cut down and it won't grow back," he said. "It will come back from suckers so you have to keep following up with herbicides."
The first order of business, however, is identifying this invasive species. Many other desirable, native, trees have white blooms this time of year, including varieties of wild plums, wild cherries, and dogwoods.
"For most people, they probably don't know the difference between a Callery pear and some of the other natives," he said.
To boot, because they are offshoots of offshoots, not all Callery pears are exactly the same. Some might have more thorns, or the blooms of some might not smell so strongly rancid or "fishy" as others, Hillock said.
Chickasaw plum or sand plum, being of the rose family, also have white flowers, grow in clumps, and have some thorns, not exactly like the Callery pear but to an untrained eye they may look similar. Dogwoods and wild cherry trees might fool some folks, too.
The best way to attack invasive trees is to learn the one bad one well— as opposed to the many others. Once the identity is known, the trained eye will pick quickly learn colonies of Callery pear are common along roadsides, filling up abandoned lots and overtaking fallow pastures near most Oklahoma communities.
"The growth habit is more upright in its branches, versus the wild plums and cherries and dogwoods, which are more horizontal, more spreading," Hillock said. "Plum and cherry blooms also usually have a sweet or flower-like smell."
The trick is to consider several different aspects of the tree before you decide to keep it or to cut it down, he said.
"Usually it's seeing a combination of things that helps you identify a tree," Hillock said.
For Callery pears, that includes an upright or "pyramid" shape, alternately arranged teardrop- shaped waxy rippled leaves with finely toothed margins, bundles of white 5-lobed flowers that may smell "rancid," and very sharp thorns up to 3 inches long and sheathed in bark so they like small offshoot that may even have connected leaves. The greenish brown fruits are hard small pears, no more than ½ inch in diameter, flecked with pale dots.
Kelly Bostian is an independent writer working for the Oklahoma Ecology Project, a 501c3 non-profit dedicated to in-depth reporting about environmental issues for Oklahomans.