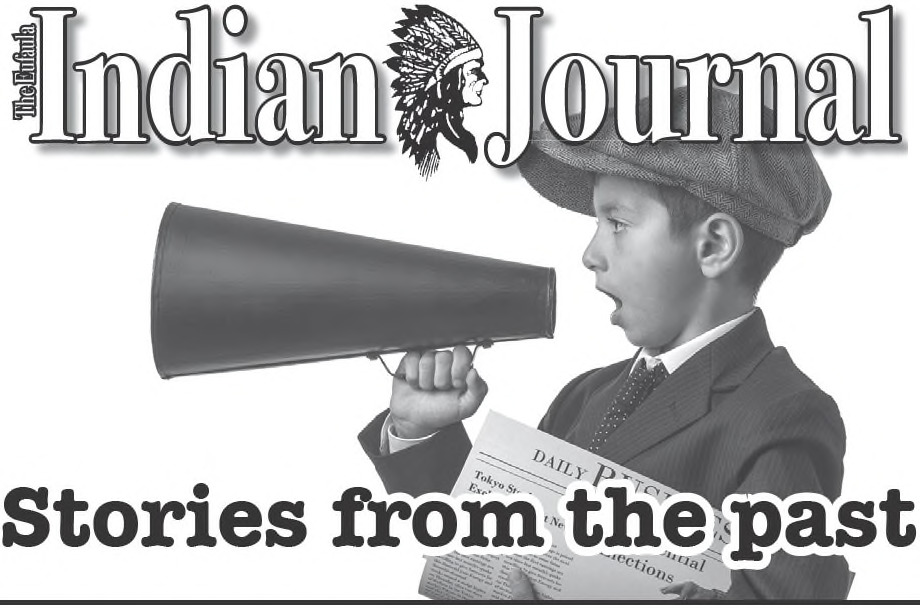 143 YEARS AGO
The Secretary of the Interior has a letter from Spotted Tail who says both he and his people want to be like the whites. "We have a good country and behave ourselves and work." The letter thus closes, "I want to tell you these last words. I have had enough of the military. I want my people to work. I want no more scouting. I have had my belly full. We want to freight and till and the ground."
The White House
The White House is the greatest residence in America. It has cost more money than the Stuart mansion on Fifth Avenue, N.Y.; or, with its rebuilding, furnishings, etc. $1,700,000. The original cost, in 1792, was about $333,500; it was begun in that year, occupied in 1800, and its porticos completed as late as 1829.
The East room was finished only 50 years ago. Every one of our presidents excepting Washington has lived in this great house, and he has poked his horse's head into its portal to look up at the workmen plastering on the scaffold.
An Irish architect named Heber, direct from Dublin via Charleston, took the award of $500 for the design and built and rebuilt it.
Child Born Without Eyes
A child at Dover South Mills, Me., 8 years old, was born without eyes. He has eyebrows and eyelids, but there is nothing which indicates the presence of eyeballs, and doctors say that he has nothing whatever in the nature of an eye organism.
The little fellow is an unusually bright boy. He has never been heard to utter a word of complaint at his condition, and he invariably rebukes his friends if they give expression to any pitying words.
117 YEARS AGO Friday, May 18, 1906
Masons Instruction
R.W. Choate, grand master mason of Indian Territory, is in Eufaula this week holding a Masonic school of instruction.
Trommershausser Gets Cashiership
J.N. Trommershausser, who left Eufaula about a year ago, has accepted the cashiership of the Pioneer Bank, at Ewing, Nebraska, and took up his new duties two weeks ago.
His father is president of the bank.
WRIGHT SAYS EARLY STATEHOOD
Inspector J. George Wright returned to Muskogee Thursday after spending several weeks in Washington in the interest of legislation affecting Indian Territory.
Mr. Wright states that the general sentiment in Washington seems to be that Indian Territory and Oklahoma will get statehood before the close of the present session of congress.
100 YEARS AGO
Thursday, May 10,1923
BAD CHECK ARTIST PASSES WORTHLESS PAPER IN EUFAULA A well dressed, well appearing young man about 30 years of age, worked the local merchants here last Tuesday afternoon after banking hours. Stepping into a business house he would make a small purchase presenting a check for a larger amount than the amount purchased came to.
JAMERSON WILL CONTINUE AS FOOT BALL COACH
At a meeting of the school board here this week, Charles D. Jamerson was again elected coach for the Eufaula schools for the coming session.
Mr. Jamesosn put the city on the map last season, defeating most of the football teams in this part of the state.
He expects to have a better team than ever this coming season that will more than likely be a contender for the championship of the district.
MISSOURI KANSAS & TEXAS CO., GETS OKMULGEE ROAD
The Okmulgee Northern Railway of fourteen miles is to pass into control of the Katy railroad. Negotiations for the purchase of the line have been completed and will be ratified at a meeting with Katy stockholders at St. Louis June 28.
Purchase of the Okmulgee Northern means its early extension across McIntosh county to Eufaula to connect with the Katy railroad here.
The road has 14 miles of trackage, including ten miles of main trackage.
75 YEARS AGO
Thursday, March 11,1948
Severe Cold Brings Distress to Eufaula
Nearly 2,000 homes and business houses in Eufaula and Checotah were without gas for seven hours Thursday during the worst blizzard of winter when a frozen line choked off the supply of the Oklahoma Natural Gas company to the two principal communities in McIntosh county.
Gas pressure began to fall in Eufaula shortly after 11 a.m. and by noon all gas fires were out.
RECORD MARCH COLD WAVE GRIPS COUNTY
An already extremely severe winter became worse this week as the second snow since Sunday blanketed McIntosh county with the coldest March storm in the recollection of longtime residents.
In the wake of a six-inch snow the temperature dropped to zero in some parts of the county and stood at 2 Vi degrees above zero in Eufaula this morning, Mrs. W.R. Daniels, U.S. Weather observer, reported.
McArthur and Truman Toss Hats In Ring Both President Truman and Gen. Douglas MacArther let it be known Monday that they would accept the nomination for president if the people want them.
Mr. Truman said he would run for a full term as chief executive if the Democrats nominated him.
MacArthur said he would accept the presidency "if called by the American people" but would not actively seek it.
President Trumans action found Democratic leaders divided and the Republicans, in most cases, quite pleased.
50 YEARS AGO
Thursday, May 17,1973
Larry Adams Appointed "Action Man" on Arts & Crafts Show May 17-19
Arthur Miller, president of the Lake Eufaula Association, appointed Rev. Larry Adams acton man on the Arts and Crafts Show sponsored by the association in South McIntosh County. Lee Stidham was appointed Action Chairman in North McIntosh County.
Poppy Day In Eufaula To Be Observed May 19 The American Legion Auxiliary will be selling individual Poppies on Saturday, May 19. Help this worthwhile organization by buying a poppy. A part of these funds stay in Eufaula and help to defray the cost of the flags placed on all veterans graves before Memorial Day.
Elementary Student Art Show Friday, May 18 There will be an Elementary Student Art Show in the old gymnasium at Jefferson Davis School on Friday, May 18, and Sunday, May 20.
There will be over 2,000 student works on exhibit. There will be no admission charge and the public is invited.
25 YEARS AGO Thursday, May 14, 1998
Commencement Set For Friday At Eufaula High School
Eufaula High School will celebrate its 85th Commencement Exercise Friday, May 15, 1998, 7:30 p.m. at Ironhead Stadium.
The commencement speaker will be Dr. Al Williams, Vice President of Academic Affairs at Northeastern State University in Tahlequah.
Eufaula Project Office Plans Open House May 14
The Corps of Engineers' Eufaula Project Office will host an information open house pertaining to Lake Eufaula shoreline encroachments for realtors, mortgagors, developers and members of the public today, Thursday, May 14.
Stidham Names Valedictorian, Salutatorian
Stidham Elementary School has named Rachel Morris Valedictorian and Amber Davis Salutatorian of the 1998 Eighth Grade Graduating Class.
Miss Morris, daughter of Paul and Connie Morris of Stidham, has attended Stidham School for eight years. She has maintained a 4.0 grade point average throughout her school years.
Miss Davis, daughter of Jim and Sonya Davis of Eufaula, has attended Stidham School for nine years. She is active in the Gifted and Talented Program. She has played the trumpet in the Stidham Concert and Jazz Band for five years.