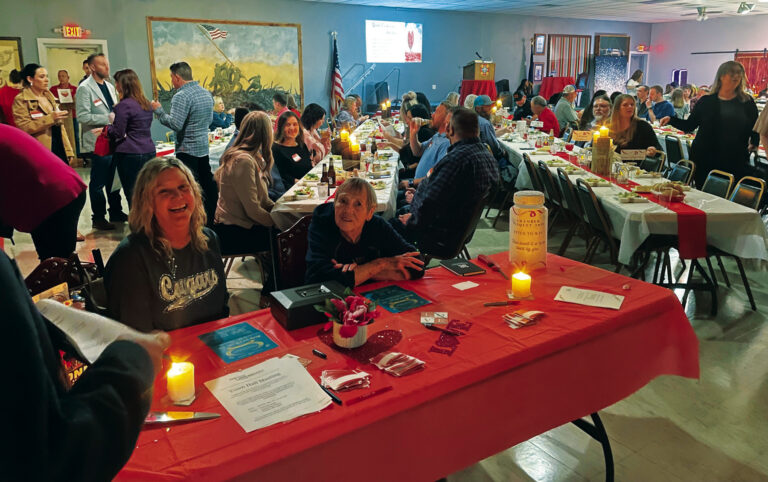 Chamber honors members during annual Banquet and Awards Ceremony
VFW praised for its meal and service
This year's recipients of the Randy Peterson Award (The Rock), one of the Eufaula Area Chamber of Commerce's top honors, were Kim Franklin and husband Tracie Franklin owners of Nicole's Unique Gifts and Memes Place.
The honor is bestowed upon the business or individual who has been in the community for 10 or more years and has demonstrated community involvement and service.
It is named out of respect for the late Randy Peterson, a community leader and president of the Bank of Eufaula who tragically died during a bank robbery in 2016.
More than 150 guests attended the Chamber's annual Banquet and Awards Ceremony, which featured a silent auction as well as awards given to more than a dozen business and community leaders at VFW Post 8798 Thursday evening.
The meal was prepared by the VFW and served by Auxiliary members and volunteers from Eufaula High School.
Chamber Executive Director Serina Kleveter had high praise for the VFW for making the event such a success.
"Chamber love! How sweet it is to be loved by you," Kleveter said. "Thank you for showing your love."
Espior Events of Checotah organized the event.
Eufaula High School student Ava Rose Johnson, an up-and-coming singing star, entertained guests as they prepared for dinner.
"She has such a beautiful voice," Kleveter said.
It was a common comment among the crowd. Kleveter said Picture Me Silly added to the fun of the evening.
"I want to thank my Board members for their support and to thank everyone who attended and made our banquet a huge success," she said.
Chamber President Jay Hunn, assisted by new Chamber member Michael Taylor, distributed the awards.
Among the recipients who received the honors were: The Stewardship Award: Geri Cozby and Llana Willcut.
Historical Beautification Award: Lakeside Realty, La Finca's restaurant and Lake Country Fitness.
Groundbreaker Award: Tulip & Tables and Too Sha.
Young Professional Award: Jeremy Moore of Blackout Tint & Detail and Mike Evans, of Captain Johns.