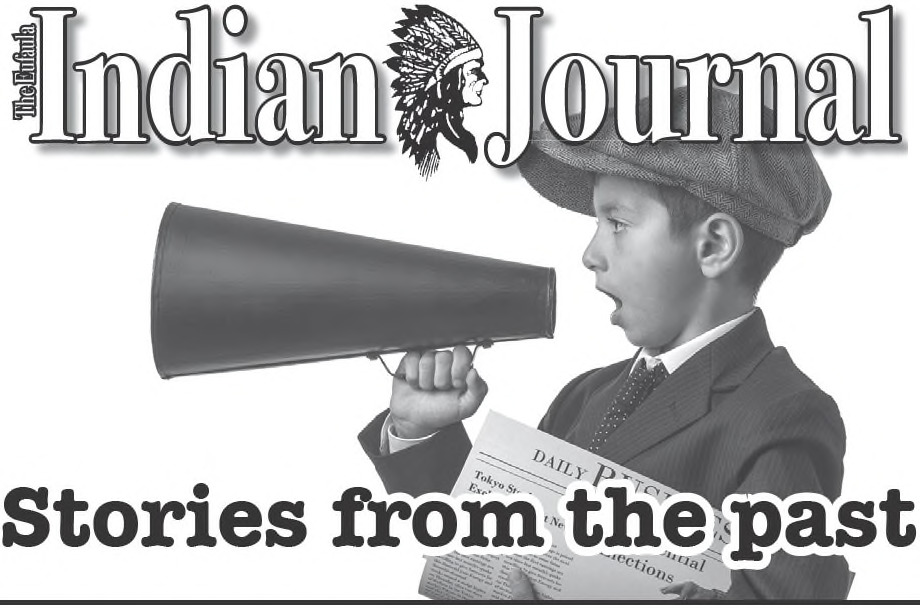 143 YEARS AGO
– Nellie Cox, 6, died of hydrophobia at Chester, Pa., on the 26th. She was bitten by a dog about two months previously.
– Henry Miller was hanged in Johnsonville, Sunflower City, Miss., on the 25th, for the murder of Henry Murphy.
– William Burchet, a carpenter of Dover, Tenn., on the 26th shot his wife and his step-daughter, Maggie Yates, a young lady, and then took his own life. The two women were alive at last accounts, but in a very critical condition.
THE YELLOW FEVER
There were 13 new cases of yellow fever at Memphis on the 26th, with three deaths; on the 27th there were 14 new cases and nine deaths – an unfavorable change in the weather being charged with the increased mortality of the latter date.
BODY FOUND IN BOX CAR
The body of a man named John Eve, of Jerseyville, 111., was discovered in a box car at McAlester last Saturday afternoon. When found the breast was badly discolored and blood had been issuing from his nostrils.
The cause of his death is unknown. His body was brought to this place and buried Sunday at railroad expense.
117 YEARS AGO
Friday, May 4, 1906
EUFAULA NOW IN DARKNESS
Eufaula was visited by an electrical storm Tuesday night, which will put the town in utter darkness for at least two weeks and possibly longer.
Father Glynn Leaves Eufaula
Father Glynn was in Eufaula Thursday on a farewell visit to the members of the Catholic Church. He has been appointed to Muskogee until October to succeed Father Joseph who is touring the old countries, when he will dedicate a church at Holdenville and remain in charge. Father Glynn has been coming to Eufaula for the past year, during which time he has made many warm friends.
CHECOTAH WINS THE SECOND
The High School ball team went to Checotah Monday, and on grounds covered with mud, played one of the fastest games of ball witnessed in many a day. The only real sad feature of the game was that Eufaula lost.
100 YEARS AGO Thursday, May 3,1923
SPEED LAWS NOW ON ALL HIGHWAYS
New State Law Sets 35 Miles An Hour as Highest Legitimate Rate Anywhere
Enthusiastic motorists who attempt to lower the speed record between Eufaula and Muskogee and other points will be subject to arrest and fine of from $25 to $100 and imprisonment of from 10 to 30 days – if they are caught going over 35 miles an hour, according to the new state law received by County Attorney Ben D. Gross.
SHERIFF M.B. MOORE WANTS OWNERS
OF SEVEN MOTOR CARS
Sheriff Mark Moore of this city has seven automobiles who want owners.
Sheriff Moore believes these cars were disposed of by Mark Smith and Frank Gifford, who were apprehended near Hichita several days ago by Moore and deputy sheriffs from this city.
All cars are Fords.
M'lNTOSH SLAYER IS FREED BY GOVERNOR
Charles Murray who served 12 years in the state penitentiary for conviction of murder in this county, has been granted an expiration pardon by Gov. J.S.Walton, it was learned here today.
75 YEARS AGO
Thursday, March 5,1948
School Board Plans Stadium Bond Election The Board of Education is preparing resolutions and a proclamation for a bond election to finance approximately $25,000 worth of stadium, gym, classroom and dressing room improvements for Eufaula public schools.
Carlile Gets Vice Chairman Post
Paul V. Carlile, Sallisaw attorney, is the new vicechairman of the Oklahoma highway commission, succeeding John M. Crail of Idabel, elevated to the chairmanship to succeed Commissioner Bob Barr of Dover.
Stigler, Thomas Make Unexpected Visit to City With a reminder that he had been responsible for the increase of initial survey funds from $50,000 to $500,000 for the Eufaula Dam and reservoir. Sen. Elmer Thomas promised local residents Monday night that he would exert his influence to obtain a Congressional appropriation for continuing the project, "If I'm convinced sentiment is in favor of it."
Hrdlickas Open New Grocery Store
Mr. and Mrs. Ernest Hrdlicka have opened a new residential grocery store and market at 222 E Street in east Eufaula.
The new store, built of concrete blocks, is on the lots adjoining the Hrdlickas' residential site. The exterior is being painted white and finishing touches are being applied this week.
Mrs. and Mrs. Hrdlicka have been in the grocery business in Eufaula for the past six years.
50 YEARS AGO
Thursday, May 10,1973
Jimmy Burgess Commended
Jimmy Burgess, Eufaula sanitation employee, was commended by the Mayor and Council Monday night at the City Council meeting.
Mayor O'Reilly stated that Burgess had been with the city five years and upon checking the records he found he had not missed one day of work or been late for work.
The Mayor recommended to the Council and the recommendation was approved by the Council to give Burgess a $10 per month raise for his past performance record, beginning immediately.
Arts and Crafts Show At Fountainhead
The Arts and Crafts Show May 17 through 19 at Fountainhead Lodge, sponsored by the Lake Eufaula Association, is bringing for your viewing the outstanding artists and craftsmen in this area as well as the surrounding area.
Muskogee VA Hospital Celebrates 50 Years Of Service To Veterans The Veterans Administration Hospital in Muskogee celebrates 50 years of service to Eastern Oklahoma veterans during National Hospital Week, May 5-12.
25 YEARS AGO
Thursday, May 7,1998
Drug Bust On Texanna Road Nets 57 Pounds of Marijuana A confidential informant's tip led to the arrest of two people in a drug raid last week. The District 25 Drug Task Force, assisted by the McIntosh County Sheriff's Department, confiscated approximately 57 pounds of marijuana in the raid.
5th Annual Wild Woman Festival Set For May 9 If you're looking for something different to do, head to the Wild Woman Festival this Saturday in Eufaula.
Admission is free to the festival where you'll find all sorts of interesting things including Chinese herbology, silk making, palm reading, flute making, wild flower field trips as well as musical entertainment.